The May 2023 Austin housing market gains momentum toward greater balance. Discover what's happening in our local market with home prices, housing inventory, and mortgage rates. Gain access to home-buying resources and tips for sellers.
7 min read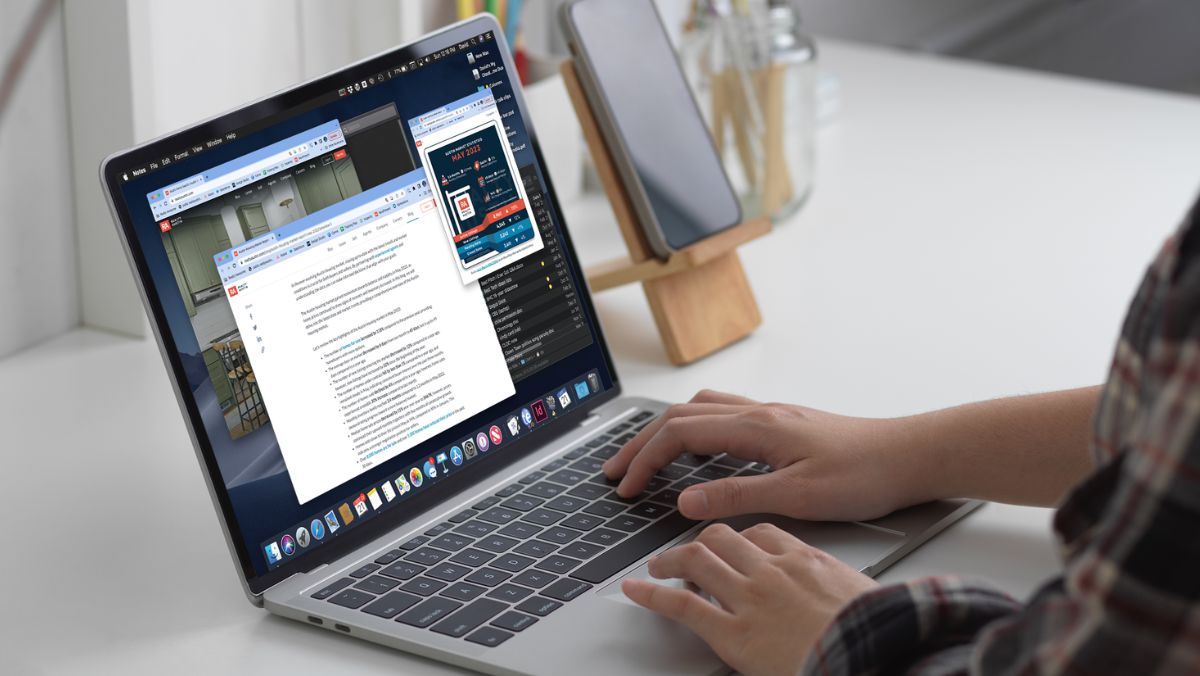 In the ever-evolving Austin housing market, staying up-to-date with the latest trends and market conditions is crucial for both buyers and sellers. By partnering with a VA experienced agent and understanding the data, you can make informed decisions that align with your goals.
Gaining Momentum and Balance
The Austin housing market gained momentum towards balance and stability in May 2023, as home prices continued to show signs of recovery and inventory increased. In this blog, we will delve into the latest data and market trends, providing a comprehensive overview of the May 2023 Austin Housing Market.
Let's review the key highlights of the May 2023 Austin Housing Market :
The number of homes for sale increased by 118% compared to the previous year. Providing homebuyers with more options.
The average days on market decreased by 6 days from last month to 65 days, but is up by 49 days compared to a year ago.
The number of new listings entering the market decreased by 12% compared to a year ago, however, new listings have increased by 52% since the beginning of the year.
The number of homes under contract fell by less than 1% compared to a year ago, and remained steady in May, indicating consistent buyer interest over the past three months.
The number of homes sold declined by 4% compared to a year ago, however, home sales experienced a notable 30% increase compared to last month.
Monthly inventory levels reached 3.4 months compared to 1.2 months in May 2022. Demonstrating progress toward a more balanced market.
Median home sale prices decreased by 15% year over year to $467K. However, prices continued their upward monthly trajectory with four months of consecutive growth.
Homes sold closer to their list price in May at 94%, compared to 90% in January. This indicates a stronger negotiation position for sellers.
Over 8,000 homes are for sale and over 5,000 homes have reduced their price in the past 30 days. 
Source: Austin Board of REALTORS®, Austin-Round Rock Metropolitan Statistical Area.
Favorable Trends Signal Ideal Selling Conditions
The May 2023 Austin Housing Market exhibited promising trends for sellers. With a notable decrease of 6 days in the average days on market, compared to April. Additionally, the number of homes under contract has remained steady for three consecutive months, indicating consistent buyer interest. May saw a 30% increase in the number of homes sold, compared to the previous month. This was accompanied by four months of consecutive growth in median home sale prices. Furthermore, sellers experienced greater success as homes sold closer to their list price. Now at 94% of original asking price in May compared to 90% in January. 
"These positive indicators signify an active and more balanced housing market. Making it an opportune time to capitalize on these favorable conditions." Said Jennifer Korba, Central Agent Success Manager at Realty Austin.
Market Momentum: Where Our Local Market Stands Now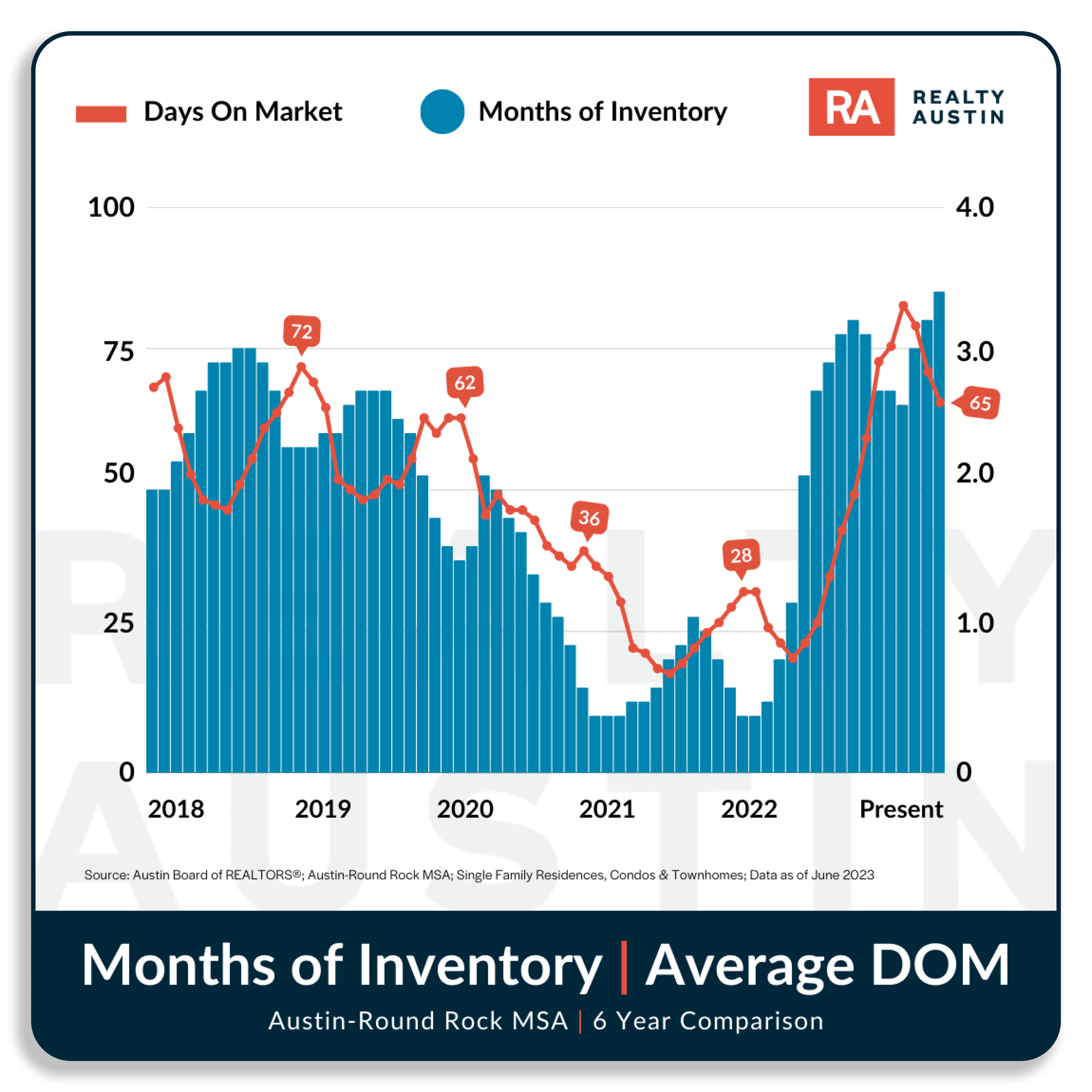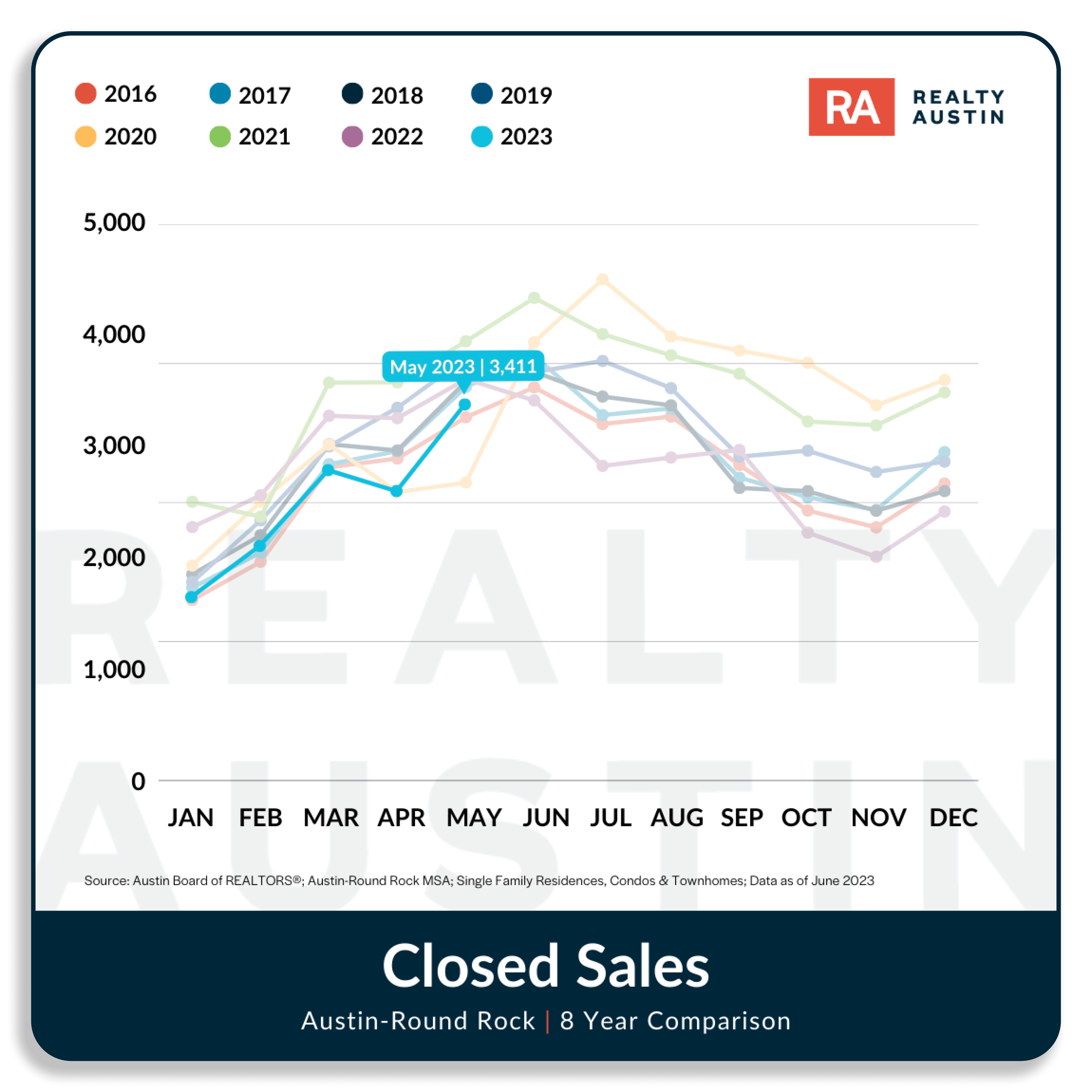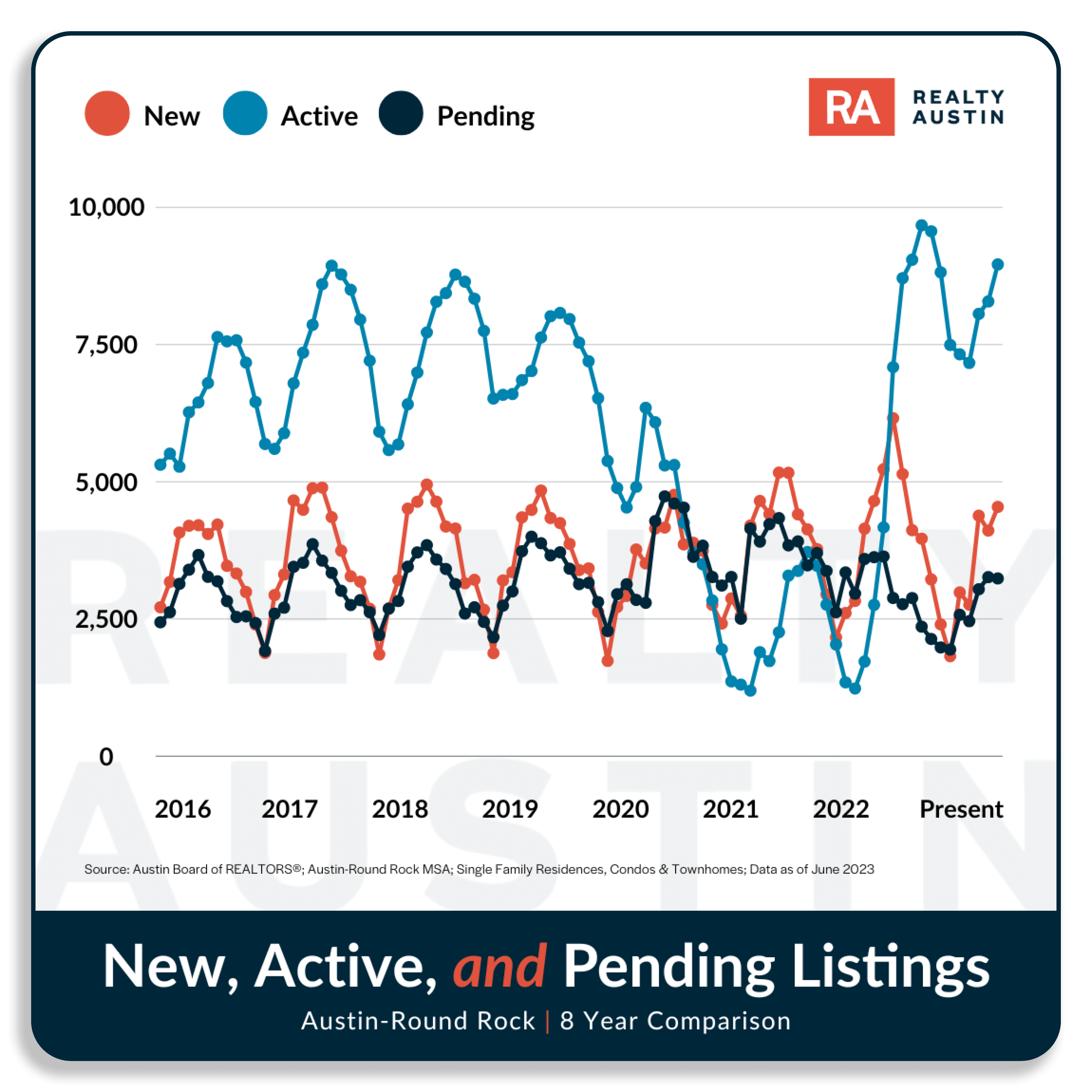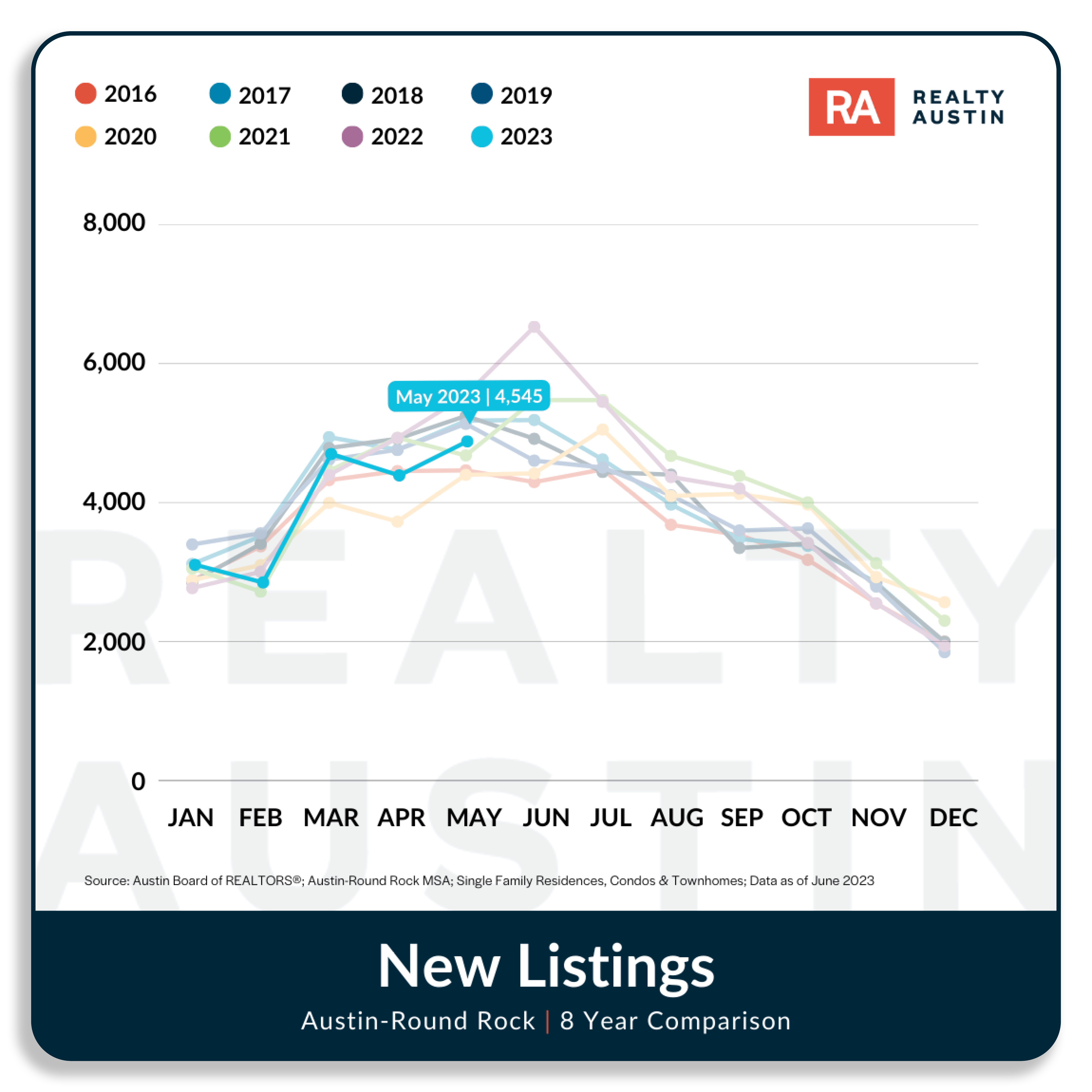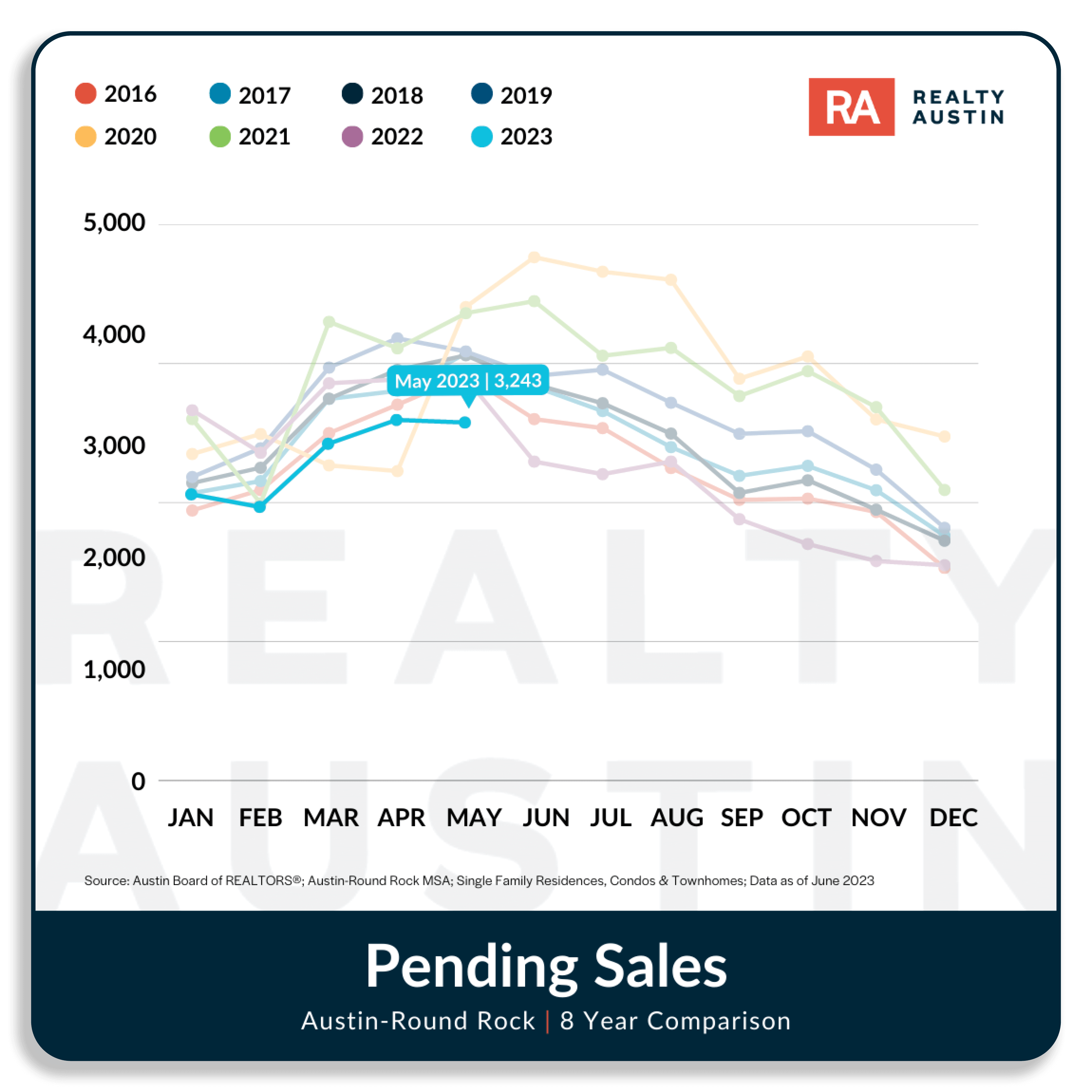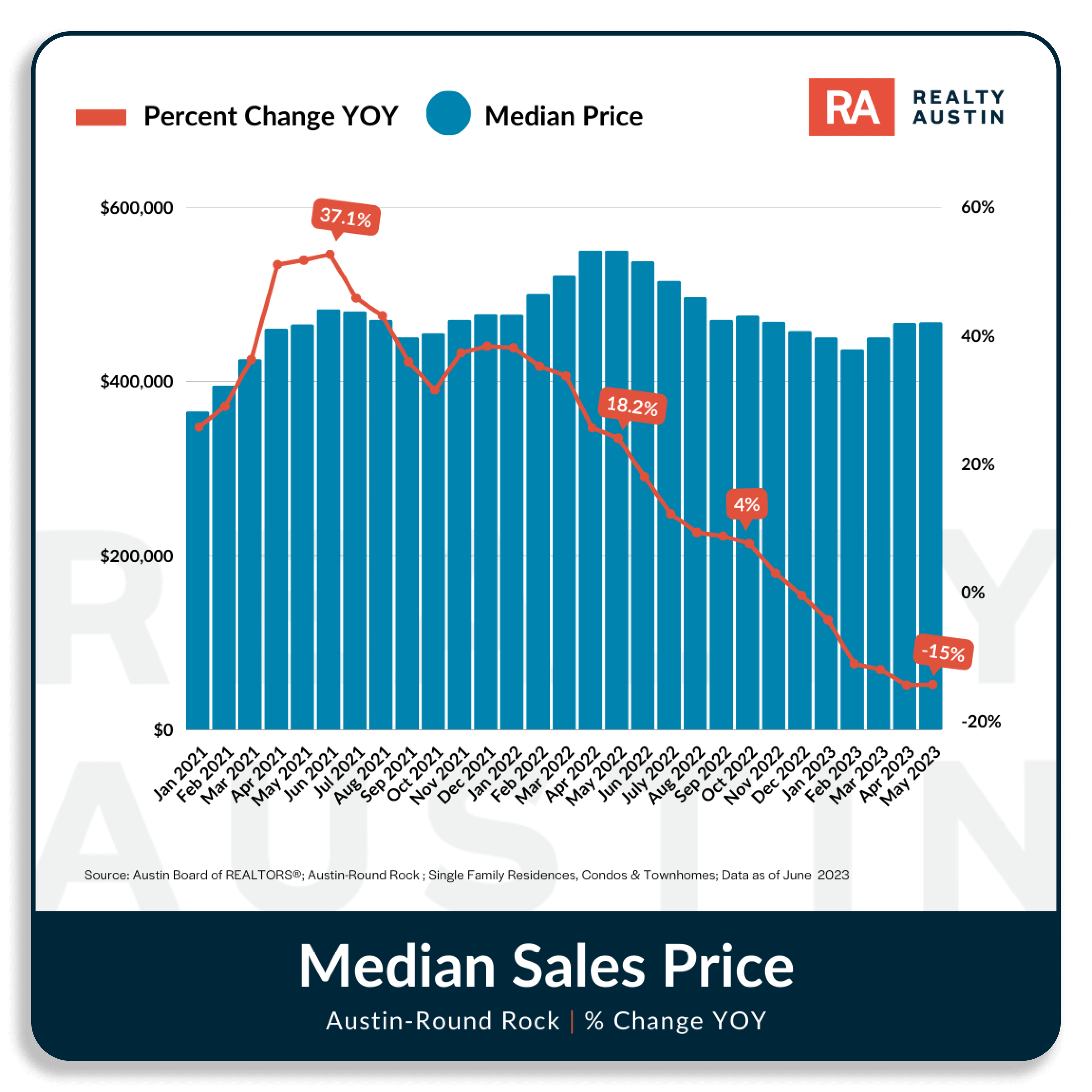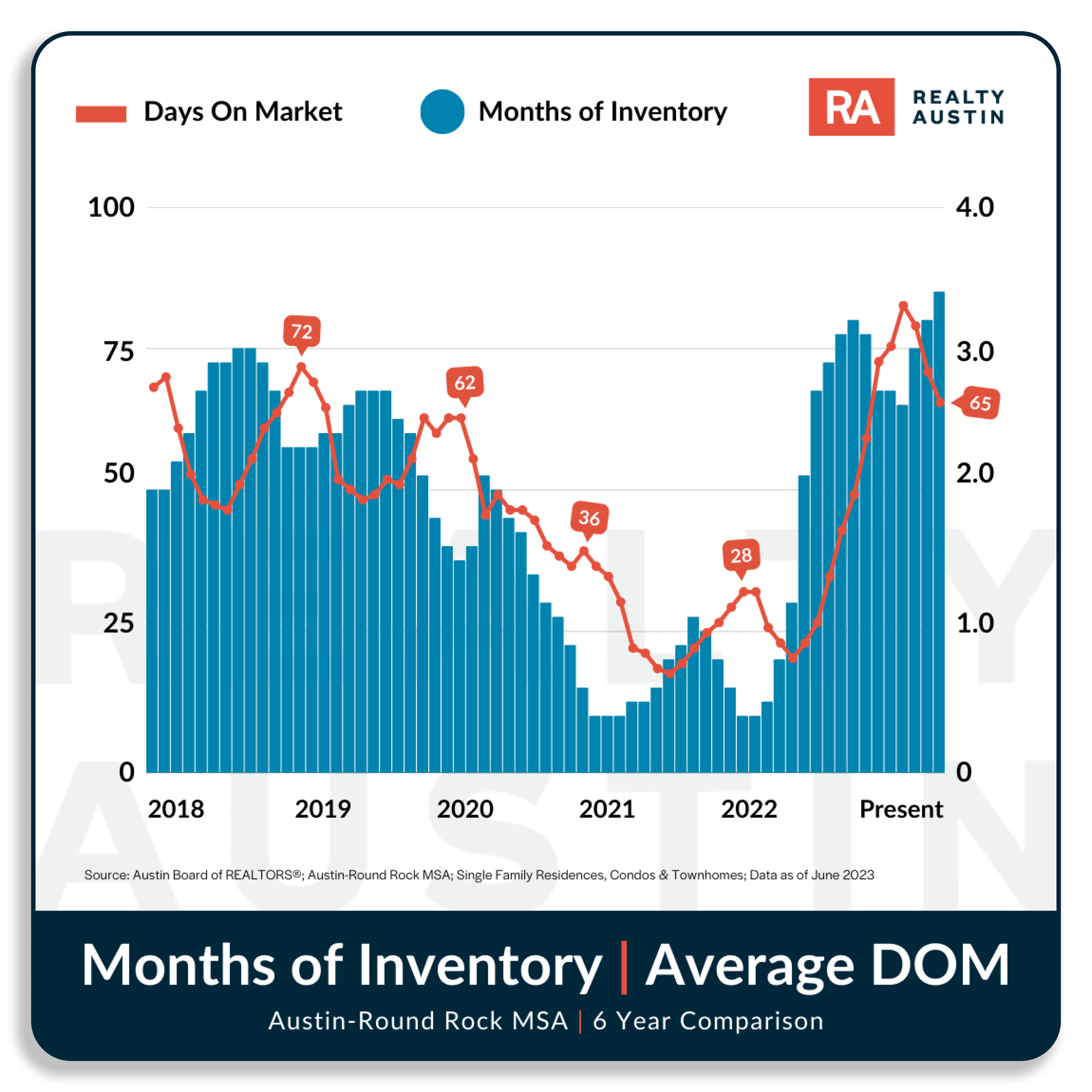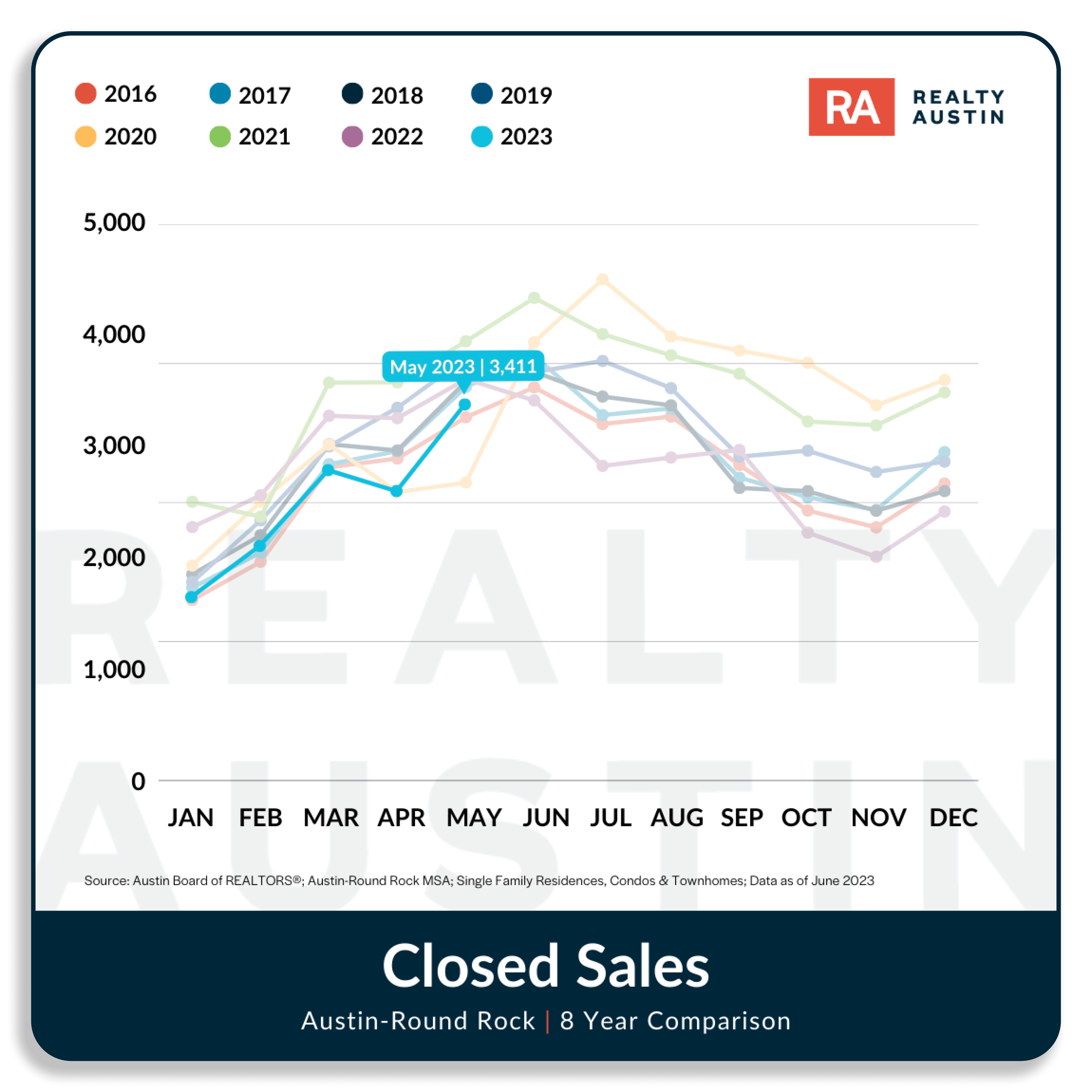 To understand what's happening in the market, it's important to look at the data through a comprehensive, multi-year lens. Here is where we are as of right now in May of 2023 with closed sales. Overall, closed sales provide valuable information to gauge the activity, competitiveness, and price trends in the housing market. By staying informed about closed sales data, potential buyers and sellers can make more educated decisions and navigate the market with greater confidence. This chart shows a market still below the past two historic pandemic years but on the upward trend from where we started at the beginning of the year. This indicates the market is actively in recovery and gaining momentum.
Source: Austin Board of REALTORS®, Austin-Round Rock Metropolitan Statistical Area
Mortgage Rate Relief Unlikely Until End of 2023 or Beyond
After a slight decline, mortgage rates are expected to stay at their current levels for a while in reaction to the Federal Reserve's decision to pause its tightening monetary policy in June. In turn, mortgage origination volumes will remain under pressure for the remainder of the year. The Freddie Mac's Primary Mortgage Market Survey, which focuses on conventional and conforming loans with a 20% down payment, shows the 30-year fixed rate averaged 6.67% as of June 22, down from last week's 6.69%. The 30-year was at 5.81% a year ago at this time. Did you know that veterans with 30% or more service connected disability can take advantage of the Texas Veteran Land Boards discounted interest rates? Dropping your interest by .5%!
Lifestyle and Changing Needs Should Matter More
A recent survey from the National Association of Home Builders found that 18% of adults in the U.S. plan to buy a house in the next 12 months. The highest share ever for the survey, which began in 2018. While mortgage rates play a crucial part in the decision to buy or sell a home, they're far from the only consideration. As Bankrate points out, lifestyle and changing needs can and should matter even more.
"Assessing the opportune moment to buy or sell a home is a deeply individual choice. Encompassing a multitude of crucial factors. Before taking the leap, it is essential to ponder significant financial and lifestyle aspects that come into play. Your future aspirations and objectives should play a pivotal role in the decision-making process. Working with a trusted guide can help you weigh the various factors to consider in our local market." Said Amanda Dudley, North Agent Success Manager at Realty Austin.
Housing Construction Sees a Boost Despite Challenges
New residential construction is on the rise, with increased housing starts for both single-family and multi-unit projects and a positive builder sentiment. Despite a slight decrease from last year, the number of homes under construction is near its highest level since 1970. Builders are focusing on entry-level homes and affordable housing, downsizing home footprints to cater to first-time homebuyers. Builders have downsized the median new-home footprint about 3% year over year, according to the National Association of Home Builders. This presents an opportunity for first-time homebuyers to stabilize their housing costs and invest in homeownership.
Homeownership: A Pathway to Long-Term Wealth
Purchasing a home is a proven strategy for building wealth. With homeowners' net worth approximately 40 times higher than that of renters, according to the National Association of REALTORS®. As homes appreciate in value and mortgage payments contribute to home equity, homeowners experience long-term financial growth. Starting the homeownership journey early can maximize these benefits, as renting delays the opportunity to build equity through monthly payments.
"If you're thinking about purchasing a home, now is the time to speak with your local VA expert to explore how homeownership can stabilize your monthly housing costs for the long-term. Even while other life expenses like rent, gas and groceries continue to rise as we've seen with recent inflation." said Tom Thornton, Southwest Agent Success Manager at Realty Austin.
Expanded Opportunities for Homebuyers with New Freddie Mac Income Limits
Freddie Mac has released its 2023 Area Median Income Limits, which impact rates, products, and down payment assistance available to homebuyers. These limits provide more options for home buyers. Home buyers can look up a property's area median income using the Freddie Mac Income Lookup Tool.  Another program to help buyers achieve their dream of owning a home is the Home Possible® from Freddie Mac. This affordable lending program is perfect for low-income borrowers as it allows down payments starting at 3% and more credit flexibility. Find more affordable housing resources in our guide here.
A Hotspot for Population Growth and Opportunity
Did you know that Texas is the second largest Veteran population in the US with approximately 1.435 million Vets? Second to California by about 90,000 Veterans, but approximately 10 million less state residents!
According to CoStar Analytics, the latest census results confirm Texas leads the country in population growth. With four major markets ranking among the top eight spots for overall growth. Austin, with a population growth rate of 2.7% between 2021 and 2022, emerged as the fastest-growing metropolitan area in the United States among regions housing over 1 million residents. The city's remarkable expansion outpaced other Sun Belt markets like Orlando and Raleigh. This surge in population can be attributed to a flourishing job market that experienced growth across various sectors. Thus attracting a significant inflow due to relocation. The influx was further fueled by the presence of renowned technology and manufacturing companies. Drawing in a highly educated and skilled workforce.
"To meet the escalating demand, developers have responded by substantially increasing the supply pipeline in the metropolitan area, growing both our suburban markets and areas outside the city limits." Said John Coake, Head of Sales at Realty Austin.
Whether you're a veteran buying or veteran selling, understanding the latest trends and market conditions empowers you to make informed decisions. Contact me, your local VA expert, to embark on your real estate journey and achieve your goals at 512-850-1198 or email kylemcclelland@realtyaustin.com.
Don't forget to follow me on social media for market updates, graphics, and more @MyVARealEstateGuyTX, Facebook, and LinkedIn.